One of the necessary parts of a successful gutter system is downspout. This carries your water from your roofline and directs it away from your home at the ground. Those downspouts can often protrude from your home a few feet. In many circumstances, that poses a problem as that may be within the bounds of a home's landscaping. This often means your mulch or plants wash out beyond the edging. When you've put a lot of time, effort, and money into your landscaping, the last thing you want is for your gutter system to ruin it.
In other circumstances the downspouts extend directly into the lawn. This can be very inconvenient for mowing the lawn. It can also create a tripping hazard for yourself or your children (though if we're being honest, it's never the kids who trip over these things.)
In other circumstances, a downspout would dump directly on a sidewalk or in an area otherwise enclosed by a hard surface like a driveway or patio. This can cause problematic pooling of water and damage to your hard surfaces. For those cases, the ideal is to ensure that the water is directed beyond the hard surface and into the lawn.
Downspout options
All these situations have multiple solutions that can help limit the impact of downspouts.
One option is to direct the downspout straight into the ground. This may sound odd when trying to direct water away from the home. In such cases, we install drain tile that would then redirect the water underground away from the home. Directing the downspout underground into drain tile is most typical when there is an area enclosed by a driveway or sidewalk. It is arguably the most discreet option. Below is an example of such an implementation.
In some cases, we can cut the downspout to reach out to the edging of your landscaping as seen below. This method prevents mulch or plant wash-out. Water carries over your landscaping directly to your lawn without the downspout protruding into the lawn. We work with you to create customized solutions for your home and your needs.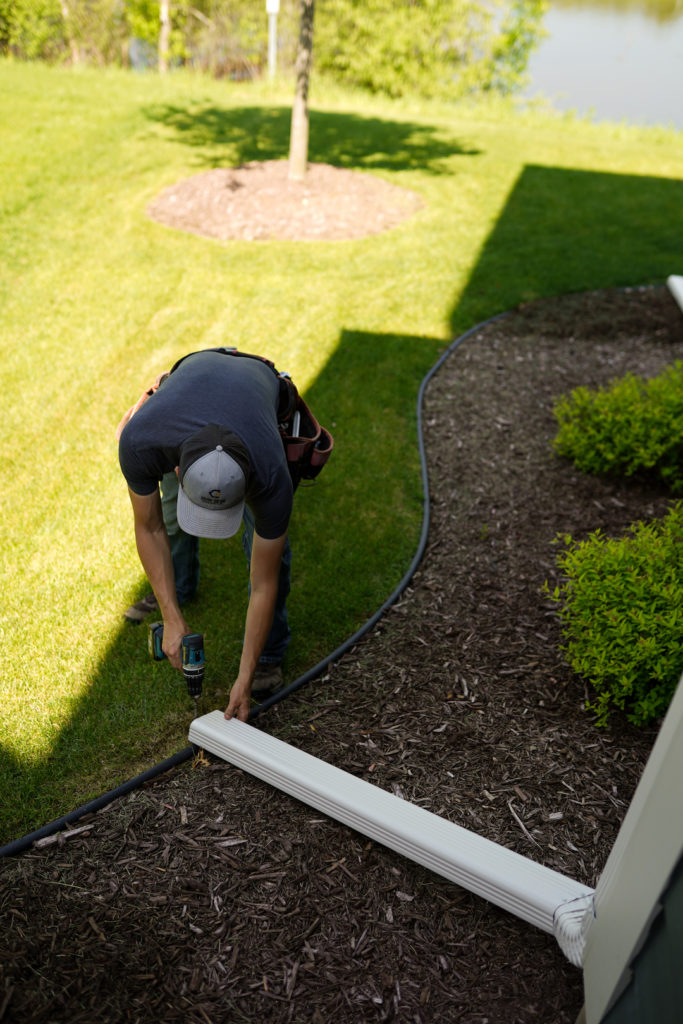 Another option is a hinged downspout. These downspouts fold up near the ground to allow you to mow the lawn or navigate your yard without tripping hazards. You'll just want to make sure to fold them down during rain events. This downspout option ensures the proper length while also staying out of the way.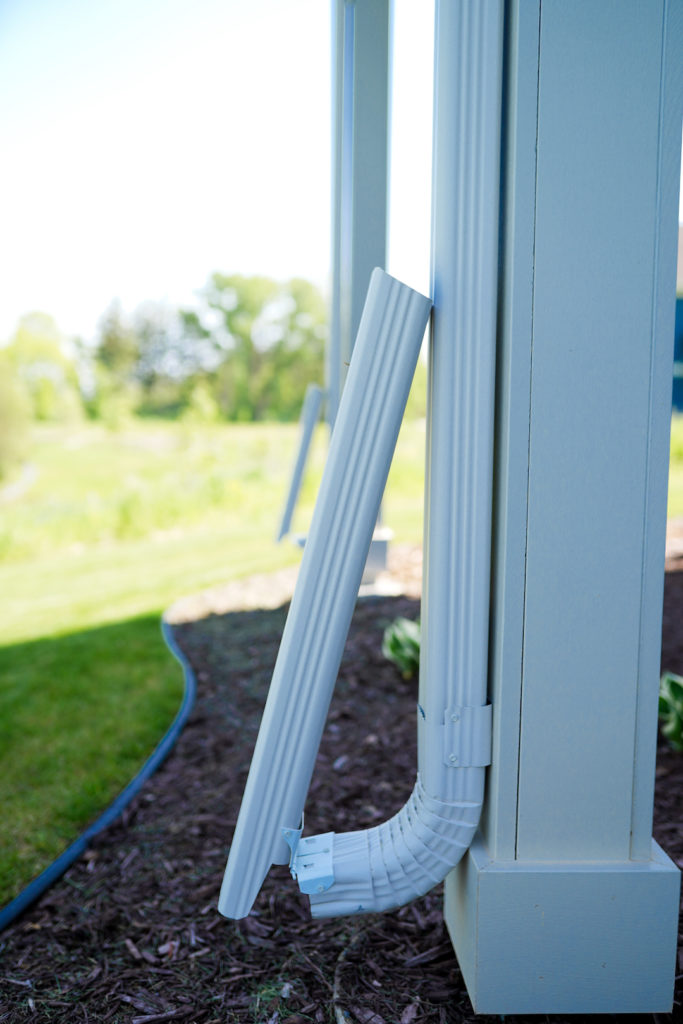 If you are concerned for how downspouts can be an inconvenience in your yard, don't be. We can ensure that water carries away from your home while still ensuring that the downspouts are properly placed. Gutters should not be only practical. They also need to fit with the overall aesthetic of your home. Our multiple downspout options give you that perfect balance of practicality and aesthetic fit. If you are building a new home, having these ideas in place before landscaping goes in can be very beneficial. Call us today to discuss your options and get a free estimate!